In your search for more information about timeshares, you may have gathered that there are several different types. It can be confusing working out the difference between these types. Some offer more flexibility or are more cost-effective, others may be a less desirable option based on the law and how well they function in practice.

At Timeshare.lawyer, on the other hand, we understand the benefits of timeshare as well as being well-aware of the shortcomings. As such, we are here to give you a balanced set of information about different timeshare types to help you understand the different aspects of the industry  better.
Fixed Week Timeshares
A fixed week timeshare is perhaps the most typical type of timeshare. With a fixed week, you pay for the right-to-use of one particular unit, in one particular resort, for one particular week of the year. This same arrangement continues for as long as your contract lasts, which can legally be up to fifty years.
As the name implies, everything about your fixed week timeshare holiday is fixed. There is little room for manoeuvre if you want any variety or change from your usual holiday. If you are the sort of person who feels most comfortable with knowing exactly what to expect from their holiday year after year, then fixed week is probably the type of timeshare for you.
So long as the resort is well maintained and the standard remains constant throughout the length of your contract, then all is well. Nonetheless, there are many accounts of people finding that the sums that they pay in annual maintenance fees creep up year by year until they become unaffordable. This is often found in cases where a new management company takes over the running of the resort, and it's most common for members to find the accommodation deteriorate in quality when under new management.
You should be aware that it is the responsibility of the resort to ensure that members' maintenance fees are spent appropriately and that the quality of rooms, amenities and public areas continue to maintain their quality over time.The only way to inject some variety into a fixed week timeshare contract is to sign up with an exchange program like RCI. These do incur an extra cost, which may be prohibitive if you're already forking out all your holiday budget in annual maintenance fees. However, for many people, exchange programs offer them a great opportunity to get the best of both worlds.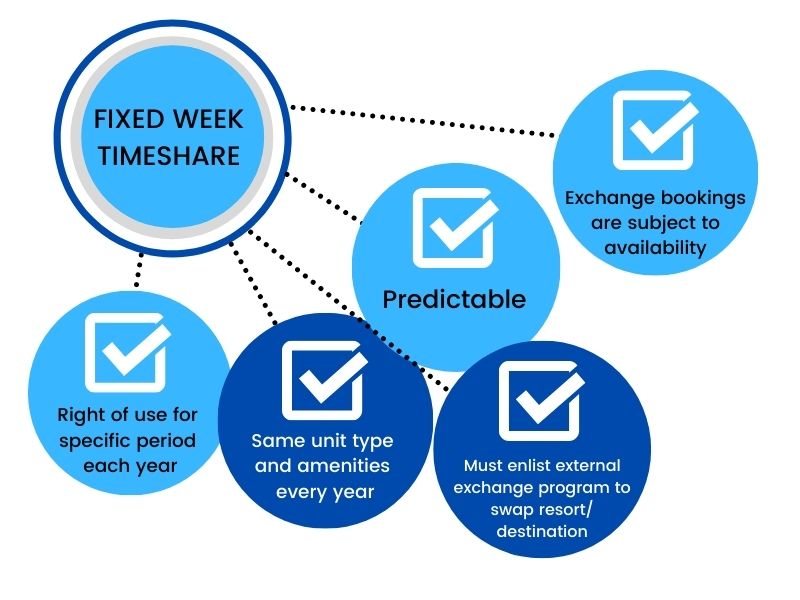 Floating Weeks
The idea behind floating weeks is that you are, theoretically, able to book use of the unit at any time during the year, subject to availability.
However, floating week timeshares have come under a lot of legal scrutiny recently. This is because there have been a large amount of complaints from members who find themselves unable to book their timeshare holiday due to lack of availability. Resorts that sell floating weeks contracts have been found to be prioritising non-member bookings over those of their paying members, or reserving the best holidays for their own staff.
Fixed Season Timeshare
Though similar in some ways to floating weeks, fixed seasons come with different restrictions. With a fixed season timeshare, there are set seasons in which you are permitted to use your timeshare week. Usually, weeks of the year are split into seasons that correspond with a certain colour that denotes the level of popularity of that week (e.g. 'red week', 'blue week', etc). Your fixed season timeshare contract will state what coloured week you are permitted to take your holiday in. The colour may correspond to a different week of the year in another destination based on factors such as the weather during different seasons.
Points-Based Timeshare
Along with fixed week timeshare, points-based systems are one of the most popular timeshare types.
A points-based timeshare allots you an annual apportionment of points which you can trade for any resort within the brand's inventory or with its affiliate resorts, or with an exchange programme like RCI/II. You also have a home resort at which you can take your holiday. Points can sometimes also be exchanged for other holiday products such as flights and airport transfers.
Like with fixed season timeshares, where different weeks of the year have a different colour, with timeshare points, a certain time of year in a certain resort in a certain location will have a kind of points 'score', denoting the number of points you need to spend in order to book it.
The theory then, with timeshare points, is that it offers more flexibility in terms of when and where members take their trip. However, like floating weeks, it doesn't always work out well for members, with lack of availability being a common complaint.
Fractional Timeshare
Whilst most timeshare contracts have a long duration, with a fractional timeshare the duration is usually between 15 and 19 years. After the term is up, members are promised a lump sum payout when the timeshare is resold.
Though this sounds appealing, it is rarely the case that a timeshare can be resold for a decent cash sum. It's unheard of for a timeshare to accrue value. These are the kind of timeshares that are most often missold as an 'investment'.
It is illegal to sell a timeshare as an investment, and timeshare companies know it. As such, a timeshare like this is often not referred to as a timeshare in the sales pitch. But rest assured, if it sounds anything like a timeshare, it is a timeshare.
If this sounds familiar, it is important to get legal advice as soon as possible. Fractional timeshares can leave you seriously out of pocket.
You may also find that a fractional timeshare is part of a points-based or fixed week timeshare system.
Fractional Ownership
Fractional timeshares can be confused with fractional ownership. The two are very different.
With fractional ownership, you hold a share in the actual real estate of the property, typically between a quarter and a half share. The type of property tends to be more luxurious than with other kinds of resorts, so it costs a lot more to buy your stake (usually over £100,000).
Whilst most timeshares give you one to two weeks' use per year, with fractional ownership you can often have access for two months or more, depending on the size of your stake. What's more, unlike any other kind of timeshare, a legitimately-sold fractional ownership has more chance of holding value, as it is directly linked to bricks-and-mortar ownership.
Fractional ownership, when done right, can be a good choice. However, things can go wrong.
There have been countless reports of people who have handed over money for a villa, luxury apartment or resort unit which is still in development only for the development never to be completed. The company who sold the stake to them vanishes or goes bankrupt, and the owner is left with ownership of a pile of rubble.
If this happens to you, you do have legal rights which you should exercise.
Private Residence Clubs
For those with a lot of money to spend, Private Residence Clubs offer extremely luxurious holidays. Private chauffeured cars, personal chef and butler, and so on. With a Private Residence Club, holders get equity ownership in the property's real estate, and because they are so high end, there is rarely cause for legal action.
Travel Clubs
If you are sold an 'exclusive membership' to a holiday or travel club, this is a form of timeshare. Your membership entitles you to discounts on attractions, access to certain services, amenities and accommodations, and so on. In many cases, however, a travel club is just a prepaid way to book holidays.
Most of these 'clubs' do not have their own inventory or resorts of their own. They take members' money in order to book trips that these people could effectively book themselves. In some cases, there are legitimate savings, when the club has relationships with travel agents and booking sites. More often than not, however, simply shopping around and booking a holiday yourself will get you a better deal.
If you are considering signing up with a travel club, make sure that it can provide concrete evidence of their discounts.
Exchange Companies
Exchange companies are not, in themselves, timeshare. A timeshare exchange programme is sold as a separate product (though some timeshares include an exchange facility as part of the normal contract), through a company like RCI or II.
All timeshare members, regardless of their contract, can purchase a membership with an exchange company to supplement their timeshare.
Similar to timeshare points, timeshare exchanges work on an equivalence basis. You accrue a certain number of points or credits that can be redeemed on holidays within the system up to the value of your points.